Building a Digital Headquarters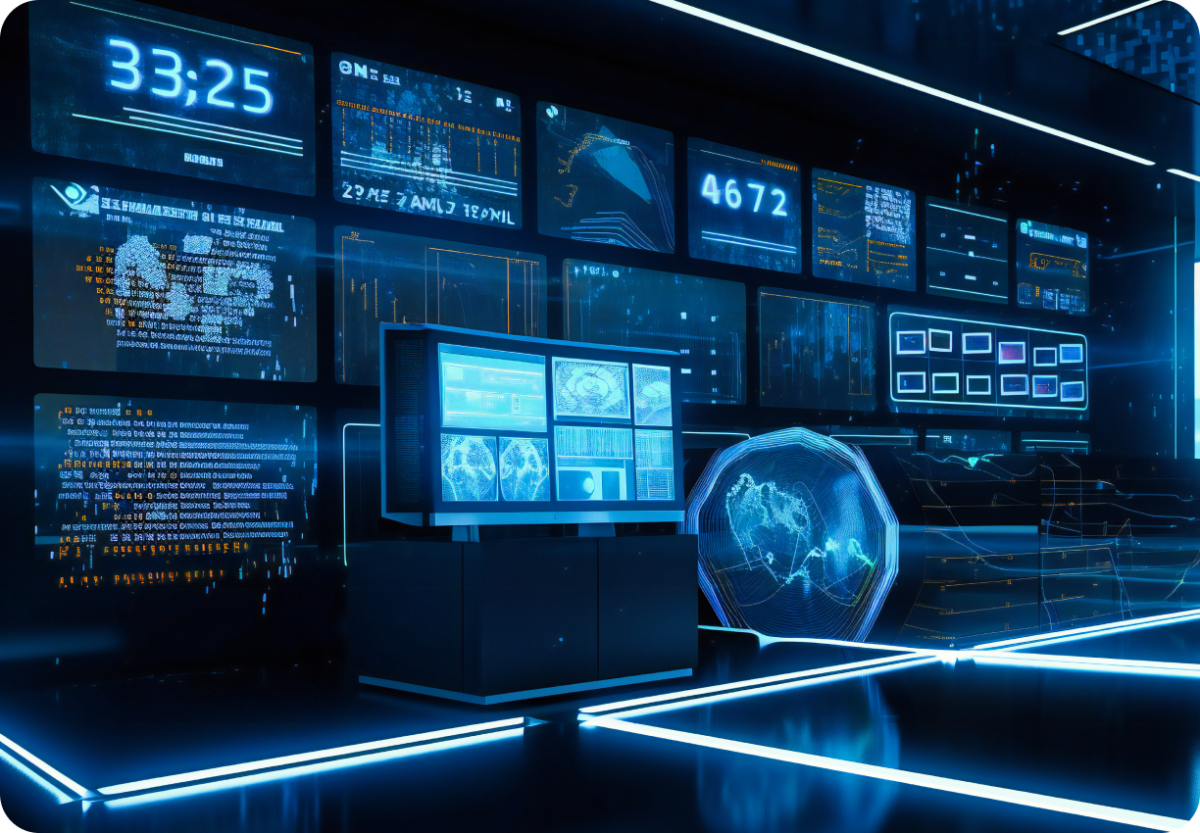 As remote work becomes more common than ever, businesses everywhere are making the switch to the virtual world. A hybrid working model requires finding new ways to enhance company culture through flexible working platforms and transforming old business practices to enable more productive and collaborative work.
Balancing data security and compliance with employee well-being and collaboration is a challenge that a digital-first world can tackle. This digital transformation is necessary for businesses to keep up with strategic growth while maintaining employees around the world. Automation, such as a digital headquarters (HQ), empowers teams with more capabilities to meet the ever-growing industry demands in this new digital-first world.
What Is a Digital Headquarters?
A digital headquarters (HQ) is a digital setting that allows your employees, systems, partners and customers to stay connected in a flexible and inclusive space regardless of location. A digital HQ removes the limits of physical walls and allows everyone to feel included and collectively share their work while working towards your company's mission.
This digital transformation empowers your team to automate daily tasks with updated workflows and productivity in a more straightforward way. With a digital HQ, your team can become digital architects and create a collaborative space for everyone to engage and work together, increase profitability and improve your competitive position.
Here are the three primary functions that make up digital HQs:
1. Integrate Collaborative Technologies
Adapting to collaborative technologies in one space can reduce the frequency of emails, meetings and communications via different technologies. A digital HQ provides the space to connect and react to communications with partners, vendors and clients quickly and address concerns as they appear.
Streamlining these processes means your team can conduct business with a direct connection to the necessary staff members when dealing with negotiations, contracts and deliveries. Both internal and external communications will be in the same channel, enabling your business to be more proactive in providing better customer service and problem-solving in real-time.
2. Automate Work to Build Better Relationships
With collaborative technologies and automated workflows, your team can deliver greater value to your customers more effectively, helping to grow your business. A digital HQ platform speeds up your processes to ensure all tasks are completed. With more free time on their hands, your team can develop more meaningful relationships with customers and conduct research within the platform to determine how to further streamline your processes.
3. Simplify Complicated Tasks
With a digital HQ, you can offer your employees simplified and readily-accessible tools in one secure platform that allows them to save time and focus on more strategic work. A digital HQ makes it easy to stay innovative and efficient, from employee onboarding to training to heightening engagement. Simplifying everyday tasks will also help your business evolve, make decisions faster and embrace flexibility with new ways of working.
Does My Organization Need a Digital HQ?
Embracing digital-first tools can catapult your business into the future of work. Building a digital HQ allows you to stay connected and aligned with different teams on a global scale, helping all employees stay on the same page and produce great results for your customers and clients.
Consider how difficult it would be to grow your company without seamless and fast communication or tools to help you aim for increased productivity. Digital tools play a critical role in shaping the future of remote work. Navigating and facilitating remote accessibility between core partners and collaborators makes it easier to remain efficient and agile.

Benefits of a Digital HQ
A digital HQ allows you to bring your teams together toward common goals, processes and projects and aim for success. Here are some of the top benefits of building a digital headquarters.
Connect Employees From Anywhere With Secure Asynchronous Collaboration
A digital HQ will allow your teams to work faster with asynchronous collaboration. This means that employees and companies working in different time zones with different schedules can still communicate and update each other effectively. Using audio and video clips or screen recordings, your employees can go over instructions or showcase a demo that others can re-watch as often as needed.
This also allows employees to benefit from more engagement and flexibility to succeed from any time zone or location and work toward a common goal. Working around time-sensitive issues and brainstorming can flow uninterrupted without scheduling meetings or waiting for responses.
Create Secure Integrations With a Cloud-Based Infrastructure
Building secure integrations that scale with your business is one of the key components of a digital HQ. You can securely integrate and connect your apps and existing systems to the platform. Having a consolidated digital workspace lets you combine the infrastructure's requirements for reliability and efficiency with your business's requirements for speed and agility.
Engaging in a workplace transformation to support remote and hybrid workers can also help you expand your tech portfolio, generate new tech initiatives and locate new cost optimization and consolidation opportunities.
IT Security Tools and Monitoring
Adopting digital workplace technology requires more time and effort from your IT team. Before asking them to take on a heavier workload, you can establish a hybrid workplace infrastructure in the form of a digital HQ to ease their concerns.
Implementing a digital HQ allows you to reassess your current IT and security monitoring capabilities and introduce more automation. From running a support desk to updating security practices to managing cloud-based tools, a digital HQ can help give you a refresh in digital workplace solutions and security controls, including threat detection and prevention.
Seamless Decision-Making Across Numerous Channels
Sharing information in digital spaces has never been easier with a digital HQ. You and your team can take offline information and make it accessible to anyone who missed a meeting or works in a different location. This allows you to share organizational knowledge easily and ensure everyone understands your decisions and next steps.
This transparency will also help your team understand the context behind decisions and how they can focus on making progress toward those goals. A digital HQ enables you to record meetings, transcribe highlights and create a common knowledge base to keep everyone on the same page.
Increase Productivity
Using a digital HQ to increase collaboration will also allow you and your employees to focus on efficiency and productivity. This platform of engagement enables users to stay within the interface and reduce context switching between several systems. Bringing your teams closer together and automating most of your processes can also allow you to uncover popular trends more quickly than your competitors and implement more digital workplace transformation projects.
You can also boost employee productivity by establishing and updating hybrid work-friendly architecture patterns and practices to ensure measurable returns on investment (ROI). A digital HQ acts as an integrated ecosystem of business tools and services you need to learn more about your workforce and how they prefer to work. Increased productivity through this platform gives employees:
More support to do their best work while reaching their career potential
Greater autonomy to manage productivity and personal times
A higher sense of purpose and usefulness at work
Your digital HQ should be structured to help you develop a better view of how different departments in your organization function and what work patterns and policies you can put in place to help meet employees' needs and company goals.

The Best Platforms and Tools
As you can imagine, there are plenty of different digital HQ applications and software available on the market today that provide various services and features. Here are some of the most popular and efficient platforms that companies trust.
Slack
Slack is a digital HQ and collaboration hub that brings your teams, information and tools together to drive your business forward. Slack can unify your existing systems with a digital-first ecosystem that streamlines your work with over 2,500 apps and integrations that automate tedious, mundane tasks. This software helps you extend the capabilities of your team and organize your work life through different channels for each project or topic.
These channels help you easily find certain people or messages and move much faster in your workday. Thanks to the organized channels, you can keep your conversations focused and benefit from a simpler way to stay in sync. With Slack, you can also take control of your notifications and collaborate in your own time across the entire company.
Salesforce
Salesforce is a customer relationship management (CRM) platform that works with your IT, marketing and sales team to help you prioritize your employees and enhance the customer experience. A CRM system is a type of digital HQ tool that spans all interactions across your company to focus on the customer lifecycle, including:
Finding new customers
Obtaining their business
Offering support and additional services
A CRM platform can also integrate with your current business tools, such as accounting and document signing, to give you a better flow of information about your customer. Salesforce also provides automatically generated insights to help you predict trends in customer data and find opportunities to improve your products and services. With this cloud-based CRM, you can also benefit from:
Automatic software updates
Scalability and cost-effectiveness
Faster deployment and increased collaboration
MuleSoft
MuleSoft is an application programming interface (API) platform that you can connect with Salesforce to achieve digital transformation. APIs act as messengers that take information from a user, tell a system what to do and return a response to the user.
MuleSoft can help connect your business systems, devices, data, products, services and applications and unify them into a single view. Whether you're looking to automate your business process, build connected experiences or understand more about your customers, you can use the API integrations as building blocks toward organizational agility.
MuleSoft, like other platforms, allows you to see your business from your customers' point of view by providing connected experiences across teams, departments, systems and channels. MuleSoft brings everything together seamlessly to ensure your customers see your organization as a whole.
eTag Fuse®
With the eTag Fuse® Application Enablement Platform, you can keep up with the digital transformation. Optimizing your business is easy with a platform that supports changing methods and delivering applications and information.
eTag Fuse® was built with business efficiency in mind to help give your organization applications you can assemble, reassemble and extend to adapt to your business needs. This platform offers a framework of critical technologies that keep your systems together and create a personalized experience for everyone in your workforce, focusing on:
Modularity: Assemble technology agnostic business capabilities.
Orchestration: Compose applications, apply augmented features and control access.
Autonomy: Transform your processes from manual to automatic.
Discovery: Democratize your information and applications.
Companies With Digital Headquarters
In a competitive industry, keeping up with other businesses and current technology allows you to remain agile and adapt to changing market needs. Companies realize that digital HQ platforms emphasize less structured interactions that simulate a natural office environment. However, every digital HQ platform has a different approach and model. Depending on your type of business, strategy and growth model, you might find one that reflects your company culture best.
For example, Salesforce works with small businesses to Fortune 500 companies. Over 150,000 companies use this digital HQ software platform for their business needs. Salesforce helps keep your company culture strong in a hybrid world and understand the needs of your users.
Slack is another popular digital HQ option. Over 80% of Fortune 100 companies use Slack to facilitate seamless communication and build better relationships with customers. Some of these companies include:
Netflix
Uber
Target
Expedia
Slack Connect brings everyone together for real-time collaboration, from discussing details of a contract to reviewing the latest designs for your next product.
Slack also offers audio-only options to allow your team to reach a decision and converse instantly to talk through your options quickly and informally. This type of feature allows your team to avoid repeat messaging, phone calls or video chats that create lost time.
Companies like Salesforce and Slack will prioritize flexibility for your team and offer new tools that expand their capabilities.
Utilize the Right Platforms for Your Digital Headquarters
When it comes to managing a remote or hybrid workforce, you need a digital HQ platform that can transform your organization while maintaining the core strengths of your business. Today, it's critical for organizations to quickly adapt to new trends and communication methods, particularly on a global level.
However, most businesses are stuck on the strategies of the past — and their application portfolio along with it. With a platform like eTag Fuse®, your team and application leaders can modernize your workflow and operate at an efficient, productive pace.

Try eTag Fuse® for Your Business Needs
As the global workforce attempts to adapt to ever-changing technology, your business needs to transform into the digital age to stay competitive and productive. With eTag Fuse®, you can benefit from a completely custom and entirely secure platform to create capabilities for applications.
As new digital business needs emerge, eTag Fuse® is there to meet the demand and provide a practical and strategic approach to organizing, managing and delivering information. At eTag Technologies, we strive to innovate and produce new capabilities and features on the eTag Fuse® platform to provide your business with the right solutions. To learn more about our platform, schedule a demo or contact us today to get started.